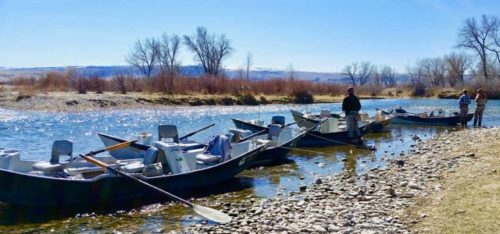 Around most fly fishing lodges and shops it's not uncommon to find guides hanging around at the end of a long hot day rehashing events; flies that worked, runs that fished well, jokes, whatever, are the usual conversation. These informal debriefs usually take place around a drift boat, which serves to prop up said guides, and makes a convenient drink holder for the customary cold beers that are enjoyed. Go to any trout river in the West, and at days end you're likely to spot one. And if you really want to know the low down, this is the place to get the goods. It's known among trout guides as "The Boat Lean".
We've actually had a blog on our website for quite a few years now. This season we are planning to add more content to keep you better connected to what's happening here on the Bighorn and at Eagle Nest. We will be inviting some of the guides to help out in order to bring new content and for their perspective on what's happening- including more timely and up to date fishing reports.
In addition to fishing and hunting reports we would like to add some gear reviews, fishing and hunting photos and even some short articles for your reading enjoyment. So give us a bookmark on the link above, grab a favorite warm or cold beverage, and welcome to The Boat Lean.
Thank you and we hope you enjoy!