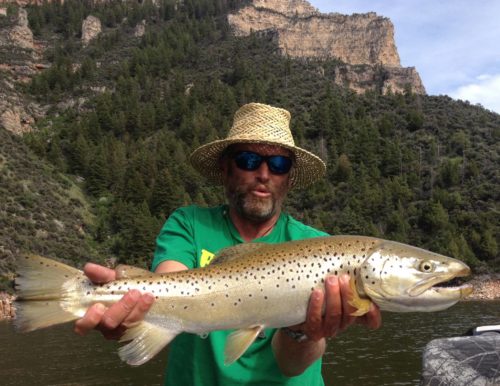 A native of Utah, Dell started fly fishing as a kid on trips to the mountains with his Dad. Those early experiences lit a fire for the sport that still burns bright 5 decades later. In 1998 Dell sold his successful bakery business in Utah and found his way to Montana and began guiding on the Bighorn that same year, giving Dell 20 years and thousands of days on this blue ribbon trout fishery.
During Dell's guiding career he has worked nearly every major river in the state, from the freestone streams on the western edge of Montana, to the spring creeks of Paradise Valley. In 2006 alone he guided on 12 different rivers around Montana! These days he has narrowed his focus to the Bighorn. Having fished and guided a wide range of places, Dell feels that without a doubt, the Bighorn is one of the best. He is also known as an innovative fly tier and is a Signature Fly Designer for Yellowstone Fly Goods, a Billings, Montana based wholesale fly production company.
Known among fellow guides for his passion and love for both fly fishing and fine cigars; he's also somewhat famous in the Valley as a good natured practical joker. Among clients he's known for his seasoned professionalism, focused work ethic and willingness to tailor the day to meet his anglers needs and expectations. Whether you are a novice, an expert dry fly technician, or somewhere in between, Dell draws from a deep well of experience and can show you the best of what the Bighorn has to offer.
Dell lives in Billings with his wife and three children Scout, Emma, and Magnus; and his loyal Jack Russel, Bob.
Q & A Rapid Fire:
If you only had ONE fly to fish the Bighorn: Pink Soft Hackle Sowbug
Favorite Month to Fish the Bighorn: June
Favorite Cigar: CAO Brazilia
What are you doing if you're not fishing: Mountain Biking