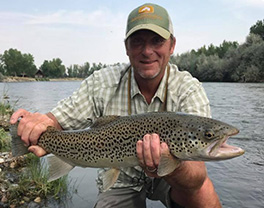 If there were some kind of competition in life that was judged by whoever got to fish and hunt the most, we're pretty sure John Shirley would be somewhere in the top 3, all-time. Joking aside, you would be hard pressed to find a more passionate fly fisherman and bird hunter than John. He demonstrates that by spending literally hundreds of days a year doing both, whether guiding, going with friends or traveling to saltwater destinations.
A native of Great Falls, Montana, John cut his teeth fly fishing at an early age on the various streams and rivers around the state, including the Missouri River. In high school he recalls driving the frontage road along the Missouri looking for pods of rising trout, long before the river was discovered and became the high profile fishery that it is today. After a stint in the corporate world with a company in Boise, Idaho, John quit his job in 1998 and moved back to his home state of Montana. He built a wooden drift boat, and became a full-time professional fishing guide on the Bighorn River.
John's passion for fly fishing has taken him wide and far. From the saltwater flats of the Yucatan Peninsula, to Honduras, Texas, Belize, Louisiana, the Florida Keys, and the blue ribbon trout rivers of the Rocky Mountain West, he loves them all. But what is probably most amazing is that for a guy who has caught trophy trout, permit, tarpon, red fish, snook, jacks, bonefish, barracuda, etc., he can often be found during the off season just as happily catching channel catfish in the slough right near his home on the banks of the Bighorn.
Since 2002 John has co-managed Eagle Nest Lodge with his wife Rebecca, and despite the additional demands and duties, he still finds time to guide a number of days each season and claims that his drift boat and bird truck are the best office he could ever hope for.
Q & A Rapid Fire:
If you only had ONE fly to fish the Bighorn: Size 14 Rusty Spinner
Favorite Month to Fish: August
Favorite Beer: IPA
What are you doing if you're not fishing: Tying Flies
Author: Tyler Cote